LG 32" LCD TV - Advanced and Affordable LCD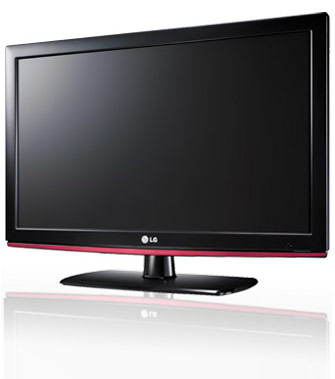 Simplink
The problem of too many remote controls is symptomatic of modern times – there are so many different AV devices to connect (Blu-ray Player, DVD Player, Home Theatre System, etc.) and each comes with its own device. LG's SIMPLINK system can control all the connected AV devices with one remote control. By pressing the SIMPLINK remote control key, you can switch on and control all devices connected by HDMI. When the TV is switched off, all connected AV devices are automatically switched off as well.
Clear Voice II
Automatically enhances and amplifies the sound of the human voice frequency range to help keep dialogue audible when background noise swells. Can also be personalized with a new 12-step adjustment level.
AV Mode
The AV Mode allows you to customize the picture and sound quality to enhance your viewing experience accordingly.
Invisible Speaker
Great sound is meant to be heard, not seen! Our Invisible Speakers beautifully hidden are designed with simplicity.
USB 2.0
connect your USB device to the USB 2.0 port in TV set and play various kind of files (Divx Jpeg Mp3) easily.
Smart Energy Saving
Up to 76% energy efficiency! A big screen TV that cuts down your electricity bills and is also eco-friendly. It comes true with Backlight control and Screen off function.
HDMI