SAMSUNG Series 5 - 40" LED SMART TV
For those looking for a premium TV that is as practical as it is stylish, look no further. The LED* TV Series 5 has Clear Motion Rate 100, HyperReal Engine, Wide Colour Enhancer Plus, and Digital Noise Filter. The Full HD Series 5 comes with cutting-edge features and accessories such as Samsung's Anynet+ technology, ConnectShare™ Movie and HDMI inputs, as well as SRS Theatre Sound for a full entertainment experience. And let's not forget access to the AllShare ™** feature that transforms your TV into the centre of your digital world.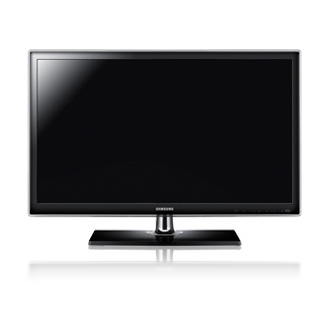 Ultra Slim design
A Truly Slim TV
The Samsung Ultra Slim LED TV changes the playing field, by taking advantage of some of the latest innovations in TV technology.
AllShare™
Enhance your overall Samsung Smart TV experience with AllShare**
Samsung's AllShare™ feature is a key element in the Smart TV equation. Just like the name sounds the AllShare™ feature not only allows your TV to wirelessly connect with your compatible mobile devices, it also helps to enhance your overall Samsung Smart TV experience. That means you can share movies, photos and music all through a single device—your Samsung Smart TV. And because the Samsung Smart TV is DLNA enabled, your digital content can be seamlessly shared between compatible devices for a more robust experience. Samsung has even optimised the network configuration to let you easily enjoy content ranging from movies to photos to music without having to switch devices.
Clear Motion Rate
Experience the true meaning of motion clarity with Samsung's Clear Motion Rate. It is a motion clarity standard based on the actual measurement of resolution in a moving scene. Clear Motion Rate determines the clarity of motion using 3 different factors: Panel, Video processing, and Backlight technology. With this new standard in motion measurement and control, you will have amazing motion clarity and clearly see the whole new dimension in picture quality.
HyperReal Engine
The driving force behind the amazing colour and realistic images of Samsung's new LED TV's is the innovative HyperReal Engine. By optimising performance and image enhancement, the Samsung HyperReal Engine provides vibrant and crystal-clear Full HD images.
Wide Colour Enhancer Plus
See colours as they were meant to be seen! 
The Wide Colour Enhancer Plus is just an amazing colour enhancer. By using an advanced picture quality improvement algorithm, the Wide Colour Enhancer Plus can improve the quality of any image and even uncover hidden colours and details.
Anynet+ (HDMI-CEC)
Simplify your home entertainment experience
Samsung's Anynet+ technology has been at the cornerstone for all its Full HD TV's. The new LED TV is no different. With Anynet+ (HDMI-CEC), you can control all of your HDMI-CEC compatible digital AV devices with a single remote control.
Brightness Sensor
Brightness Sensor
The Eco Sensor measures the intensity of the light in the room and then automatically calibrates the brightness of the image on the TV. Under bright situations, the sensor will increase the brightness of an image while the sensor will reduce the brightness under darker situations. That means the Eco Sensor controls the amount of light used to create its images.
ConnectShare™ Movie
With the ConnectShare™ Movie capability, transform your Samsung Smart TV into a home entertainment theatre. Simply plug in your USB memory drive or HDD into the Samsung Smart TV and instantaneously enjoy a range of movies, photos and music on your TV. So instead of watching movies on your PC, you can download them onto a USB and watch them in the comfort of your living room on your Samsung Smart TV.
Ultra Clear Panel
The Ultra Clear Panel on Samsung TV efficiently absorbs external light and virtrally eliminates reflection, providing you with real, natural colour and deep, dynamic detail that delivers a clear comfortable viewing experience.
Full HD 1080p
Experience the natural beauty of reality with Samsung's Full HD LED TV's. With twice the resolution of standard Samsung HD TV's, the LED TV delivers images that defy your mind and bring pleasure to your home entertainment experience. The rich, realistic texture of Full HD images invites you to enjoy a viewing experience that redefines reality.
Digital Noise Filter
Enjoy all the advantages of a high definition LED TV with Samsung's Digital Noise Filter. The filter helps to reduce some of the digital artifacts and other digital "noise" that appear on your screen. That means you can now watch crystal-clear analog programming as if it was being broadcasted digitally.
HDMI x4
With four HDMI (High Definition Multimedia Interface™ ) inputs, the Samsung LED TV will transform your living room into a multimedia entertainment centre. HDMI provides high-speed transmission of high definition digital data from multiple devices straight into your TV. That means you can enjoy a wide variety of content on the big screen.
SRS TheatreSound
Hear how beautiful sound can truly be with Samsung's SRS Theatre Sound. The Samsung LED TV is equipped with "invisible" speakers so you can enjoy the benefits of true surround sound without any distractions or additional equipment. Let Samsung's LED TV deliver a full entertainment experience so that you can finally hear what's on your screen.
** To use Samsung's AllShare™ feature, a Samsung Wireless LAN Adaptor is required. RRP $79.00. AllShare™ is a trademark of Samsung Samsung Electronics Co., Ltd.

Samsung LED TV's utilise LCD screens with LED edge lights.

Features and specifications are subject to change without prior notification.